Participatory Dance Performance
Choreography: Sarah Fdili Alaoui (UPSUD, LRI) and Jean Marc Matos (Cie K Danse)
Performers (Cie K. Danse) : Ambre Cazier, Izaskun Insausti, David Mazon, Mario Garcia Saez
Associated artist and developers : Arnaud Courcelle
External eye: Marianne MassonMembres
Associate graduate students: Jean-Philippe Rivière and Mai Ciolfli, Doctorante (INRIA, LRI)
RCO is a relational choreographic performance, in which the choreography evolves entirely according to the embodied behavior of the audience as well as their participation in the invitations of the performers and the instructions sent on their mobile phones. The audience, according to their desires, activate rules that they discover during the show.
The intention of the artists is to question the active place that human beings can take in the creative act and their enriched perception of their own way of moving, in the public space.
The proposed work explores the idea of how a collective story emerges from the individual narrative. We choreograph the relationship of the performer to the public, the public to the public and the public to the mobile phones. We question the relationship of the public to their own body and to their mobile phone, this interactive ubiquitous, addictive and perhaps repressive medium of everyday life.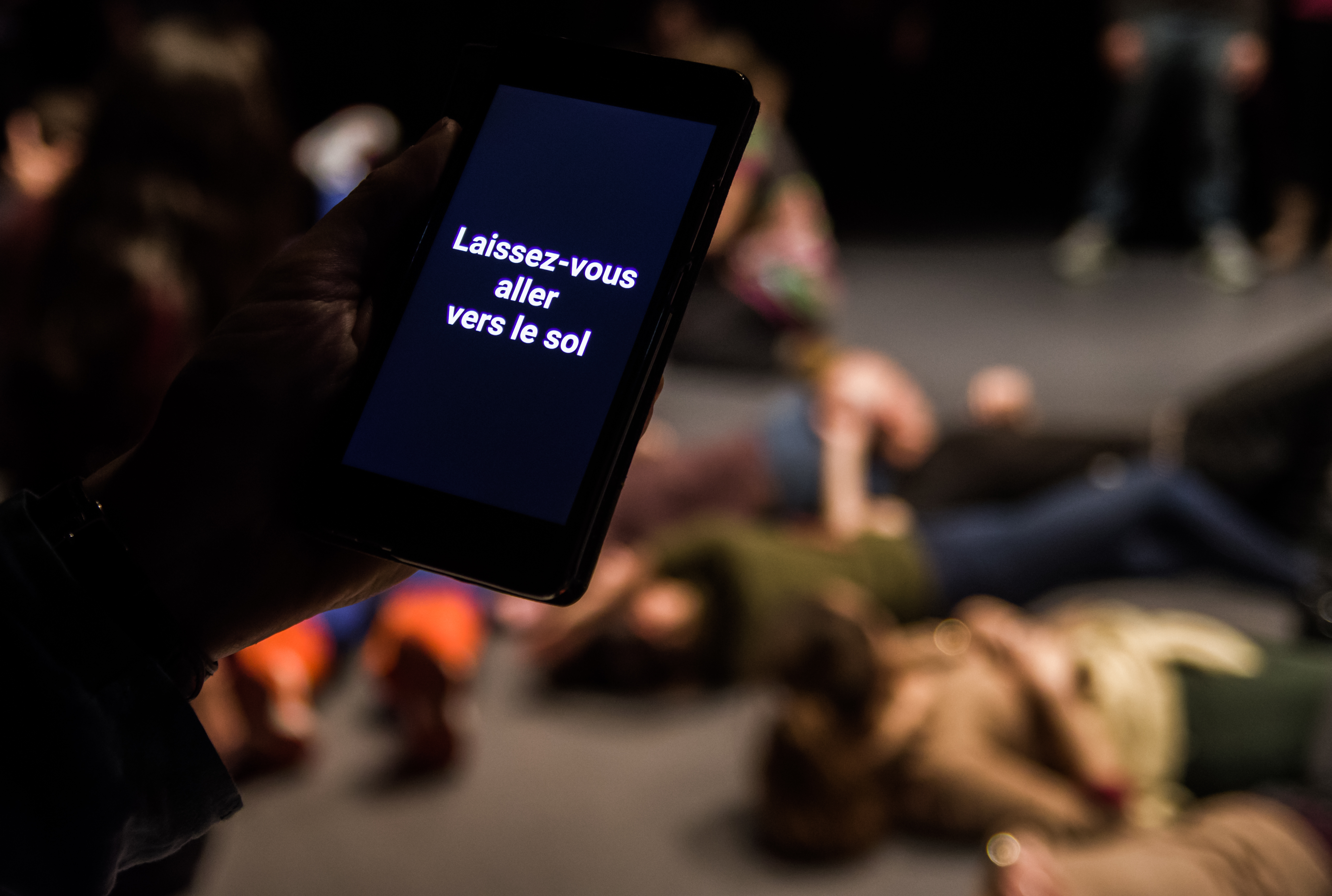 Winner of the "Projets Phares" call of La Diagonale Paris Saclay
With the support of La Diagonale Paris-Saclay, Investissements d'Avenir, Laboratoire de Recherche en Informatique, équipe INRIA ex(situ, Centre Culturel Bellegarde, La Place de la Danse CDCN de Toulouse / Occitanie, services culturels Villeneuve-Tolosane, Studio La Vannerie, Théâtre Le Ring (Toulouse).
Ville de Toulouse, Conseil régional Occitanie, Conseil départemental de la Haute-Garonne.
For more information: Dossier_RCO
Performed at:
Villeneuve tolosane, 14/04/2017 
La vannerie, Toulouse, 28/09/2018 
Maison de la danse, Toulouse 15/09/2017 
Centre Bellegarde, Toulouse 19/12/2017
Le 104, Paris 07/11/2017
Le grenier à sel, Avignon 30/03/2018
Theatre du RING  13/04/2018 and 14/04/2018
Villeneuve Tolosane 18/05/2018
 Les Abbatoires, Toulouse 14/07/2018
Préfécture de Créteil, Créteil 08/04/2019