Dance Performance / Video and sound interacting with movement and bodily sensations
Choreography: Sarah Fdili Alaoui and Tamara Erde, in collaboration with the dancers.
Dancers: Noellie Poulain, Lisa Bicheray, Laura Boudou
Video: Tamara Erde
Electronic development and research: Sarah Fdili Alaoui and Niels Mourette.
Music and sound: Alejandro Van Zandt Escobar
SKIN is an Art Science performance that integrates dance, video, sound and interactive technologies. The dancers generate their digital images and sound through their movement: the images that are projected and the sound reflect in real time their inner movements and their finest sensations. The interaction is based on the proximity, the heartbeat as well as the muscular activity of the dancers, to make appear, freeze or distort the video and the sound.
The piece is conceived as a film that unfolds with 3 different scenes that the dancers perform on stage and in video.
On the video, the dance is staged in a remote house in the south of France. A place of family stories and lived experiences where the dancers reincarnate the dance with a poetic detachment, just on the edge of strangeness.
The interactive device is thought to be a "second skin": it transforms the touch, the pulsation, the force of the movement into video and sound that refers to them, emphasize them or reveal its intimacy. The viewer accesses this intimacy through the video and sound of the dance captured in the house where he can imagine that the dancers live, where they sleep, or dream and where they play.
Our intention is to create an aesthetic contradiction between a "cold" and a "neutral" technology and a cinematographic piece that is human, all of which have a clear echo between the choreographic structure, the dance on stage, and the dance in the video and the sound.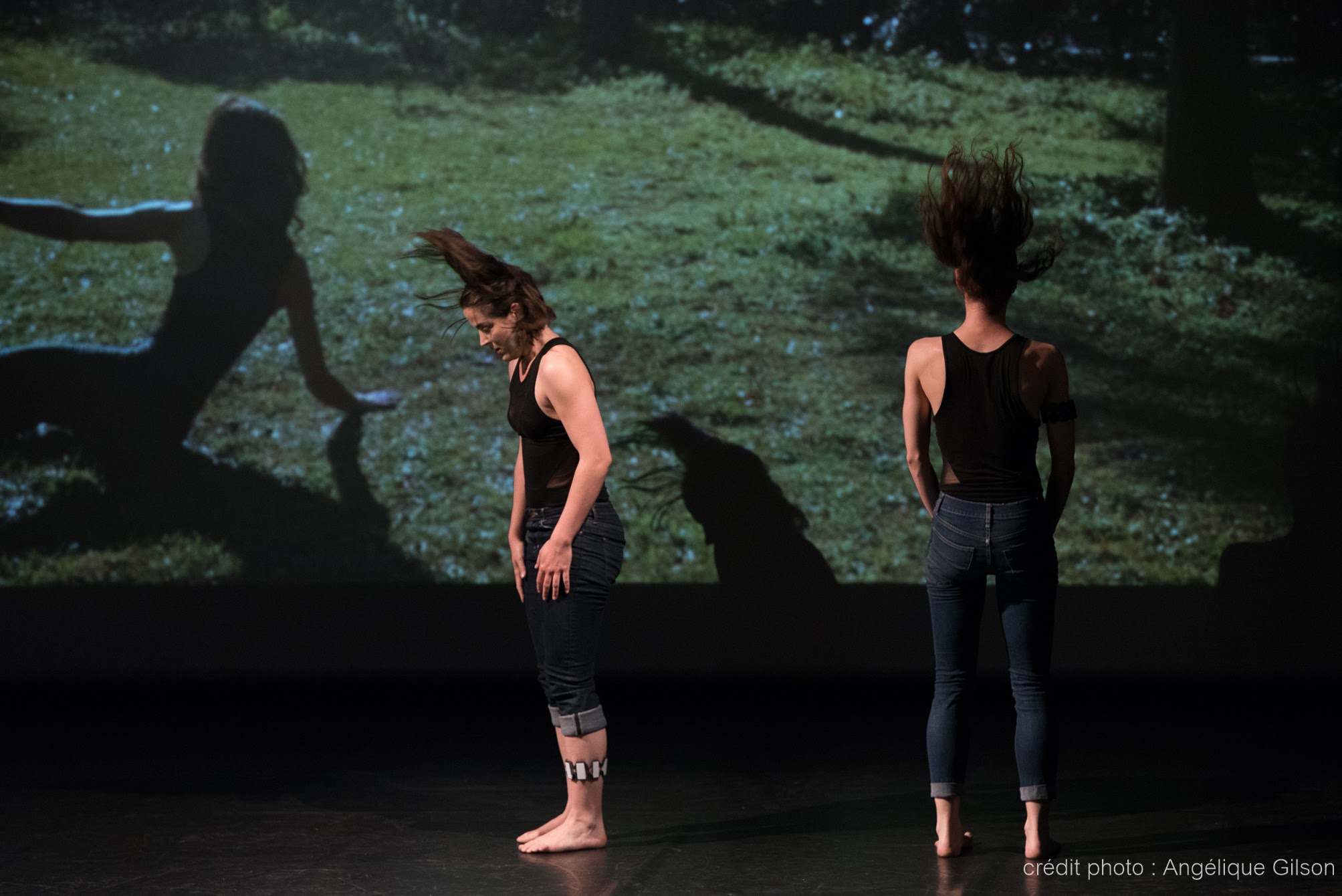 Winner of the "coup de pouce" call of La Diagonale Paris Saclay
With the support of Institut National de Recherche en Informatique et Automatique (INRIA), Université Paris-Sud / Paris Saclay Laboratoire de recherche en Informatique, Centre National de la Recherche Scientifique (CNRS)
Labelled Institut Français for the year France-Israël and supported by the Israeli embassy in Paris
More information on the show: SKIN-FicheProjet or SKIN-FicheProjet-EN
More photos: SKIN at Curiositas Festival 2017
Performed at: 
Scene 44, Marseille, France, 25/04/2016
Festival Curiositas, Gif Sur Yvette, France, 17/05/2017
Le 104, Paris, 07/11/2017
Plateau Essones, 28/11/2017 
Kelim, Tel aviv, Israël 26/07/2018
Machol Shalem, Jerusamel, Israël, 02/08/2018